RESERVATIONS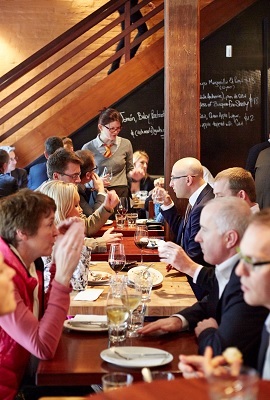 MONDAY - FRIDAY FROM 12PM - ALL DAY DINNING
HAPPY HOUR 3.30 - 5.30PM
Tapavino is split into two levels, allowing us to accommodate those who would like to book and those who don't. The ground floor will be open house for walkins, whereas upstairs will be for those who would like to make a booking in advance. For others we encourage patrons to eat at the bar, otherwise we have ample seating on the ground floor and outdoors in the lane-way.
DUE TO THE COVID-19 DINING RESTRICTIONS, DUE TO THE SIZE OF THE SPACE, WE ARE ONLY PERMITTED 70PPL
If the online bookings are full please email or call us during trading hours.
TERMS & CONDITIONS
ALL BOOKINGS VIA OUR ONLINE RESY (HOME PAGE)
ALL BOOKINGS 1HOUR 45MINS IN LENGTH FOR THE FIRST SITTING 5.30 - 6.30PM
2ND SITTING FROM 8PM
LAST DRINKS 10.30PM - RESTAURANT MUST BE VACATED BY 11.15PM
Tables of 9 and over must go onto the SET MENU 
10% service for Tables of 9ppl & over
If full or last minute reservations, please call us directly 9247 3221, as we may be able to accommodate you in our walkin section.
TAPAVINO operates under a Small Bar Hotel licence. The current law stipluates that under 18 are not allowed to dine/enter the venue even with an over 18 adult. Those under 18 can dine in our outdoor area.